There has been a lot of conversation about the Straight Talk Samsung T401G, which is probably due to the large amount of features this phone offers.  Whenever you begin a review, you need to look at lots of information. You need to read manuals, other reviews, websites, and most importantly, examine every feature of the phone itself.  Hopefully, I won't give you a lot of information overload, but instead, help you understand the features that most appeal to your needs.
Click Here For Web Exclusive Offers From Straight Talk
______________________________
A quick note from Keith:  I am looking to do a marketing test with Fone-Review, and I need a few test subjects who would be willing to follow a few easy steps while ordering your new Straight Talk phone and report the results.  In exchange for your help, I'm offering a rebate of up to $30 on the purchase of your new phone.  If this sounds interesting to you, please contact me using my contact form here.  If not, then simply keep reading and watching the T401G review!
______________________________
If you don't have the time to watch the videos, let me sum 
One of the things that has made the Samsung T401G so popular to Straight Talk customers is the slide out qwerty keypad. This phone is made for texting! The large, easy to read qwerty keypad makes texting a breeze. The screen rotates, so that it is facing you when you are using the qwerty keyboard. The directional buttons will also rotate when the qwerty keypad is opened. While the alpha/numeric keyboard is a hard plastic, the qwerty keypad is a soft, rubber material. It seemed easier to press down on the qwerty keys, and you didn't have any noisy clicking while texting. Messages on the screen are large enough to  read easily, and phone numbers are very easy to read on this screen, as you can see here:
 At about 4 and half ounces, this is the heaviest phone I have reviewed. I must confess that I have dropped the phone, the back came open, and the battery fell out. Although I was impressed with it's durability, I would highly recommend buying a case for the T401G. The camera short cut is on the side of this phone, along with volume control. The headphone, the USB, and charge connections are all on the side as well. I found the battery life on the Samsung T401G to be exceptional. For the most part, the phone stayed charged for over a week.
 As with most Straight Talk phones, the menu is very easy to read and navigate.  To scroll through the menu, you may simply press the up, down or side keys to get to where you need to go. The menu is comprised of Prepaid information, Contacts, Recent Calls, Messages, Browser, Games and Apps, My Folder, Tools and Settings.
The best way to give you an overview of each of these options is by giving you a summary of each one as we go along.
Click Here For Web Exclusive Offers From Straight Talk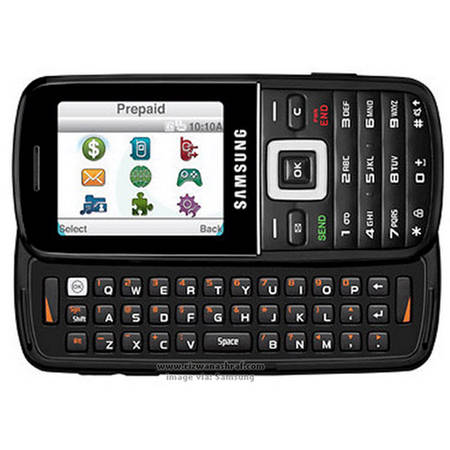 Prepaid:
  
In this option you may add airtime, see your own phone number, get your airtime information showing how many minutes you have and when more will be due. You will also see your phone's serial number under this option, your SIM number, and code entry mode.
Contacts:
You may hold information for up to 1,000 contacts in the address book/contact section. You may add a new contact, add someone into a group and view information that way, set up a speed dial list of up to 9 numbers, a reject list, and contacts settings where you have a lot of organizational options. Contacts--as well as many other features of this phone are completely customizable. You may add a contact's picture, or specific ringtone. You may also add, first and last name, mobile, home and office number, and email.
Recent Calls:
You may view all recent calls, missed calls, incoming or outgoing calls. You may delete all the information at the touch of a button, show times when calls were made, and show call data volume.
Messages:
Here you may create new messages, view your inbox, see any drafts you may have, or view the texts you have sent out. A neat little feature with messages on the T401G is text or picture message templates. If you are at a loss for words you may insert some of the most common simple messages, such as: "Call me when you get this message," "I love you," etc. Voice mail messages are also included here, as is management, where you may delete all messages or see memory status.
Browser:
The browser on this phone is tops when compared to the other phones I have seen and reviewed. The internet on the T401G was as fast as my internet access at home and didn't encounter problems with my session closing out before I was finished like many of the other phone browsers I have encountered. The home browser page brings up standard convenient options such as Email and Networking, Walmart Mobile, Mobile Websites, Weather, Sports and more, downloads, and even gives a Spanish option. From the Browser option key you may add favorite sites, enter a specific URL, or clear your cache. The easy to use qwerty keyboard makes accidentally hitting the browser button nearly impossible, and that makes for much less frustration, since I have always had problems with that on other phones.
Games and Apps:
The T401G is one of the few prepaid phones that include gaming options. Not only can you buy games for this phone, but it already has 2 games on the phone. A+SUDOKU, and another called Jump Boy. I had trouble figuring out how to play Jump Boy, but then again, I'm not a gamer. I have read some comments from people that have been able to download free games for this phone, but I did not try it myself.
The Music Player is also under this feature. In order to use the music player you will need to download music using a USB cord. You may then add, rearrange or remove music files. The Samsung T401G comes with 2 gigabytes of memory, but is capable of holding 16 gigabytes to expand and store your music, videos and other files. A con about the MP3 player is that it will not accommodate standard earphones. You will either require specific equipment to fit the Samsung, or you will have to use an adapter.
The Samsung T401G features a 1.3 mega pixel camera. There is no flash on this camera, however, it has the ability to control brightness using the up/down keys and a very nice zoom using the left/right keys.  You may also edit a photo using the image editor which is also under this icon. You can use effects such as black and white, negative, sepia, blur, sharpen, sketch, posterise, and  solarise. You may adjust color, brightness and contrast, and flip or rotate the image. You may send the image via Bluetooth or email. Overall, I was very impressed with the camera!
Here's a quick snaphot taken with the camera.
This phone also boasts a camcorder which is perfect for a quick video that you might need to send. You can even zoom in quite well during recording, but if good video quality or video length is important to you, I would suggest using a regular camcorder.

Click Here For Web Exclusive Offers From Straight Talk
A great little option that can be found under the games and apps icon is the voice recorder. You may use the voice recorder on the phone rather than carrying an additional voice recorder. This is great for when you want to remember something, such as a shopping list item, or to play back a speech before a big meeting.
My Folder:
The sounds from the voice recorder, images, videos, music, other files and memory status are all found under the "My Folder" icon.
Tools:
The Samsung T401G has more tool features than I have seen in a prepaid phone. If you like to have organizational gadgets, you will be thrilled with what you see here! Under this icon you will find an alarm with 3 alarm settings, a calendar with views of the month, week or day. There are sections to include a complete schedule, anniversaries, miscellaneous, task, missed alarm events, and memory status. Under Notes you may include even more, whether it is a grocery list, or ideas for a school paper.
There is a regular calculator that you can even do some basic algebra on, as well as a tip calculator. There is a converter showing conversions of currency, length, weight, volume, area, and temperature. There is also a regular timer and a stopwatch, as well a world time showing.
Settings:
Under settings you will find more customizing options including; sound settings for your incoming calls, messages, keypad tones and volumes, tones for powering off or on, slide tones and if that is not enough...extra tones! There are 15 ringtones to chose from that sound kind of like video game tunes. There are display settings for wallpaper, theme (black or white), main menu style, (block or list), info display, dialing display, and backlight duration and brightness.
If you are really interested in high tech options, you may look under phone settings where you will find time and date, language, shortcuts, my own number, you may set to airplane mode, or turn auto key lock off or on. In call settings you may opt for a send key, auto redial, show my number, and call waiting. You will also find all the important bluetooth options under the settings icon, as well as the browser and reset settings.
When I first began to research the Straight Talk Samsung T401G, I felt really overwhelmed. There where so many options requiring examination, some of which were more high tech than I cared to dabble in. There were so many other reviews and comments, and information overload. After I did all my research and used this phone for about a month, I realized I really liked it! In fact, I liked it more than any other phone I have reviewed. My favorite feature, of course, was the slide out qwerty keyboard. If you are not interested in texting or gadgets, this phone is NOT for you. But if you text at all, and enjoy having some high tech features, you may just wonder how you ever got along without it!
Review by Shaunna Wood
Click Here For Web Exclusive Offers From Straight Talk